As an Amazon Associate we earn from qualifying purchases.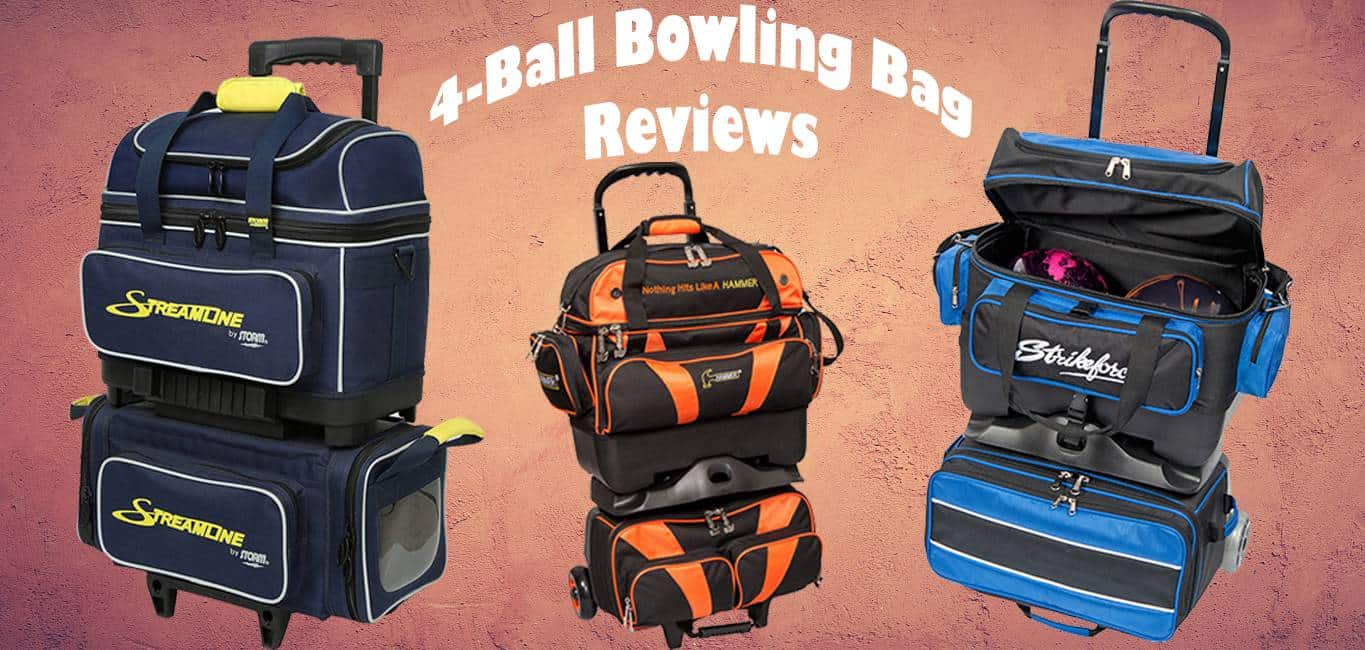 If you are reading this, you are probably interested in bowling and starting to pick it up as a hobby, or you are looking for an upgrade to your carrying gear. After all, shuffling around to go for a game while carrying several bags containing your gear is not an attractive idea, neither is carrying a bowling bag full of balls on your shoulder – you are probably tired just thinking about it.
The good news is that there are plenty of options available. When considering a bag for your four bowling balls though, there are plenty of factors to consider much more than the other bags that carry fewer balls – all which we will talk about in this article.
# Comparison Chart (Best 4-Ball Bowling Bag)
Table could not be displayed.
# Best 4-Ball Bowling Bag Reviews
(Our Top Picks)
1. Hammer Premium 4-Ball Stackable Bag
This is for you if you want a bag that gives you plenty of storage space for your bowling balls, yet does not compromise on the quality of the material. You will easily fall in love with its premium build, and it will be sure to never let you down for years. Its design allows you to stack four bowling balls within several compartments, which helps you stay organized and protects all your bowling gear.
The design of the bag is very attractive, and ticks all the boxes when it comes to aesthetics. The best part is that you have not realized how useful it is. The colors are in black and orange, while the branding of the company is highly prominent on the front of the bag. To add on that, it is very portable and strong.
The entire set is made from very strong 600-denier fabric, making it very hardy and able to withstand many years of usage, so you will easily notice it fulfills all your requirements.
In order to help with the portability aspect, the bag has urethane wheels. These are large in their diameter, about five inches. Thanks to the size of these wheels, along with the steel bearings within them, you are assured that the ride will be smooth and effortless – regardless of the individual surface the bag moves on.
The design of the entire bag is in two parts, and the top bag is easy to detach. This gives you the versatility to make a choice – if you do not need to carry four bowling balls, you can leave the top part can go with the lower part, and vice versa. Both of the bags feature generous components for storage of your gear, including the bottom one. In addition, the whole set has a front-load design, which helps you remove your gear easily and quickly when you require it.
Pros
Very easy to pull around
Has numerous and spacious compartments
The handle and bag are strong
The balance is very good
Cons
The handle does not retract completely.
2. Storm 4-Ball Rolling Thunder Signature Bag
This is the ultimate pick for those looking for versatility in their bowling bags. It combines attractiveness and an interesting color scheme, and it also includes very convenient aspects that meet all your requirements when it comes to bowling gear.
The most distinctive feature that it carries among all the best 4-ball bowling bags on this list is that you can easily use it for two balls or opt for all the four. Because of this, it is easy for the bag to grow as you grow in your bowling skill. If you need to carry two, for instance, you can detach the deluxe tote bag, which also has a shoulder strap that is non-slip for easier carrying.
The interior of the bag is spacious, just as with all the best rated 4-ball bowling bag rollers, and you will also benefit from the front-load base that is strong and durable. This allows you to have quick access to your gear when you need it, and the zippers also ensure all your gear is safe within the bag.
The fabric comprising the bag is mainly 600-denier polyvinyl. Not only does this make up the bag itself, but also the steel axle and the heavy-duty frame. The components and materials making them up therefore ensure your bag is strong enough to carry your bowling balls without tears. The bag is additionally easy to move around, due to the silver wheels that measure five inches, and their stability is assured when the bag is in a standing position due to the 8 spokes.
One feature we are sure you will appreciate is the shoe compartment that is on the side of the bag, in addition to the warranty that lasts five years. The bag is, therefore the best at lasting heavy use and the distances it will go, while also satisfying your needs.
Pros
The bag has a great design and is highly functional.
Easy to carry around, as the handle fully retracts when needed
Stable and does not tear easily
Wheels move very smoothly
Cons
The fasteners need extra strength
3. Storm Streamline 4 Ball Roller Bowling Bag
If you are on a tight budget and are looking for versatile cheap 4-ball bowling bags, this might be the best pick for you. It might have its challenges, but it is not the most impossible bag on this list to have. This bag quickly answers all the questions you may have on bowling bags, and it additionally has a warranty that helps you relax when purchasing it.
Regardless of whether you are moving around with two or four bowling balls, it can easily cater to these requirements without leaving you straining. Thanks to the detachable deluxe suitcase, you can easily remove it if you are only using two bowling balls in your game. In addition, moving it around with you is not as difficult as it may initially seem, even though you might be carrying significant amounts of weight around.
The wheels are four inches in their diameter, and the entire bag is comprised of very strong 600-denier fabric in addition to the forged steel axle. This ensures you can move with the bag easily across many surfaces, but prevents tears from occurring. Aside from that, it also has a telescopic handle that retracts easily and is rugged in its design.
Because of all these factors, what lands it among the best 4-ball bowling bags is because it allows everyday use, and does not easily suffer from wear and tear. If you need a large space for your bowling balls, accessories, and bowling shoes, this is the bag to go for.
Pros
The bag is spacious enough to allow for multiple item storage
The design is stylish and durable
The compartments allow you to organize your items easily
The wheels are large and of good quality
Cons
The weight is higher than most bags (even when empty)
4. KR Royal Flush 4 Ball Bowling Bag
Regardless of whether you are a beginner or an expert in the bowling world, you need a strong bag that caters effortlessly to you – and this is among those bags. Once you upgrade to it, it will easily impress you with what it can do, and it quickly show you it can be used for much more than a bowling ball bag alone.
The bag is entirely comprised of 1680-denier fabric, making it highly durable and very resistant to wear and tear. This is accompanied by very high-strength zips (YKK Luggage zippers), which give you the assurance that they will serve you well for many years to come.
In addition, the bag will satisfy your needs beyond the storage requirement you are thinking of, since it is very portable even when you are carrying your bowling gear. The wheels are made of urethane, and are five inches in diameter. That means that regardless of what the surface is, the bag is comfortable to pull around and move as you continue to your destination.
Just in case you need two balls, rather than four, you can effortlessly convert the bag into a 2-ball carrier. Simply detach the upper suitcase, which will allow you to benefit from the bottom bag that is easy to open and front-loaded. The bag also has separate components for your bowling shoes and other accessories you require, so you no longer need to carry additional bags to your game.
Finally, you will find it hard to resist this bag once you hear the warranty period – seven years. Aside from this being one of the best warranty periods in the industry, you will also be satisfied thanks to all the features of the bag.
Pros
Offers you plenty of space to store your items
Great and stylish design
You can organize your items easily
Very durable
Cons
The carrier does not fold down completely.
The handle is very long, so is not suitable for short people.
5. KR Strikeforce Royal Flush 4×4 Roller Bowling Bag
While the existence of the bowling bag is a great way to transport your bowling gear, it does not need to be limited to this usage alone. The KR Strikeforce has come up with a bag that therefore, does not just fit the bowling needs, but also helps the bag stand out from the mass of bags around. The design itself features blue and black colors, and it is stylish, featuring several well-placed pockets you can use to store additional items.
The wheels measure 5 inches, and made from Kruse urethane for smoother rides on various surfaces. The fabric that is used to make the bag is 1680-denier, which ensures it can last the distance and heavy use without developing tears, and the sizing of the compartments is very generous as well. To keep your items safe, the use of YKK luggage zippers protects your items, and they will serve you well for a long time.
It also allows you to carry two bowling balls, just in case you need less of them, and the molded handles also make it easy to move the bag around. In addition, we are sure you will appreciate is the shoe compartment that is on the side of the bag, in addition to the warranty that lasts five years. The bag is therefore, the best at lasting heavy use and the distances it will go, while also satisfying your needs.
Pros
Plenty of spacing in the bag and compartments that allow your arrangement to become easy
The wheels make it easy to move the bag
The design is stylish
Durable
Cons
# Things to Know Before Buying
If you are already an avid bowler, you probably have a bag you use to carry your gear. However, when you are new to the game, the process might become confusing when you have no idea what to look for. As a general guideline, here are some factors to consider:
The wheel size
Because you are carrying four bowling balls, they can easily place a strain on your back and spine if you carry the wrong type of bag. For this reason, the best 4-ball bowling bags with wheels are essential because they reduce the weight and strain on your body, much more than if you were carrying one bowling ball, for instance.
You need to ensure the quality of the wheels is high, and the handle is also of high quality. As a general rule, the bags with larger wheels are easier to move around, but quality will always trump everything at the end of the day.
Spacing
You are not just carrying your bowling balls – but also other items that are essential to your comfort as a player. These include bowling shoes, resin to apply on the balls, towels, and so on. Because of this, you need to make sure the bag you select has sufficient space to allow you to stock these items without forcing you to carry additional bags.
Certain bags will have separate compartments for your shoes and can hold more than one pair, as well as spaces for your keys, pens, business cards, and so on.
Material
The bag can be made from several materials, although the most common for a four-ball bag is polyvinyl because of its durability and strength. The thickness, or thread count, is referred to as denier, so the higher it is, the stronger the bag.
FAQs
What bag is the best to go for?
Really, the choice you make will depend on other factors such as your budget and specific needs, although it is important to go for brands that are well known and established. This is because the unknown or cheap brands are likely to disappoint you in various aspects.
Does the brand matter?
In light of the previous question, yes and no. Yes because it does have a bearing on how well the brand will hold up over time, and no because it will affect the pricing of the bag. Premium brands will always have more costly bags – but you are assured the quality is great, regardless.
What if I am travelling with the bag frequently?
If you are planning to use the bag in your distant travels, such as when going to other countries, you need something that is comfortable enough to carry and will not be over the allocated weight limit (in case you are travelling by plane).
It is important to know the weight limit you are working with, and make sure the bag is durable enough.
Between nylon and polyvinyl, which one is better?
It is common to find bowling bags that have these materials as either part of it or the whole material, especially if the bag is carrying more than one bowling ball. They are both good, and the choice will depend on your needs.
Nylon goes through treatment during the final process, which makes it water resistant. If it is a high quality, it can be very durable. Because of its lightweight, many beginner bowlers or people that use lighter balls tend to use it, as well as people who are on a budget (since it tends to be cheaper).
Polyvinyl, on the other hand, is made from plastic threads that are woven together very tightly to create a waterproof cloth that is very strong. It is the material of choice for many bowlers due to versatility and its high strength.
What about the zippers?
All the best 4-ball bowling bags will feature strong zips, preferably of the same quality as the bag itself. They need to be two on the same edge and are capable of being locked together using a padlock.
Conclusion
Among all our picks, we choose to go for the KR royal flush 4-ball rolling bowling bag. It has a very strong build, and is versatile enough to carry multiple items that you own while remaining comfortable to carry. Its warranty period is also great, and ensures it will serve you well for a long time.
Amazon and the Amazon logo are trademarks of Amazon.com, Inc, or its affiliates.
Last update on 2022-06-25 / Affiliate links / Images from Amazon Product Advertising API