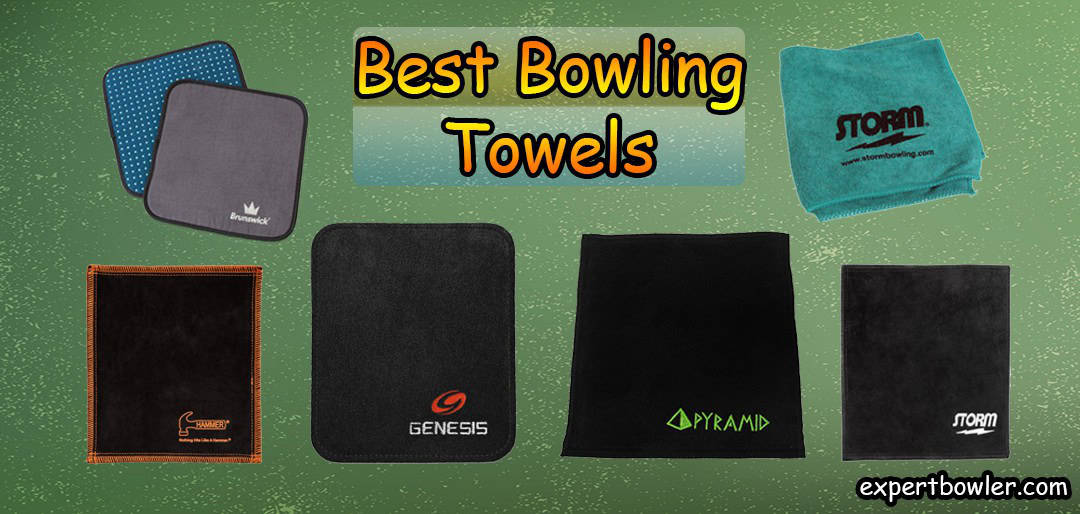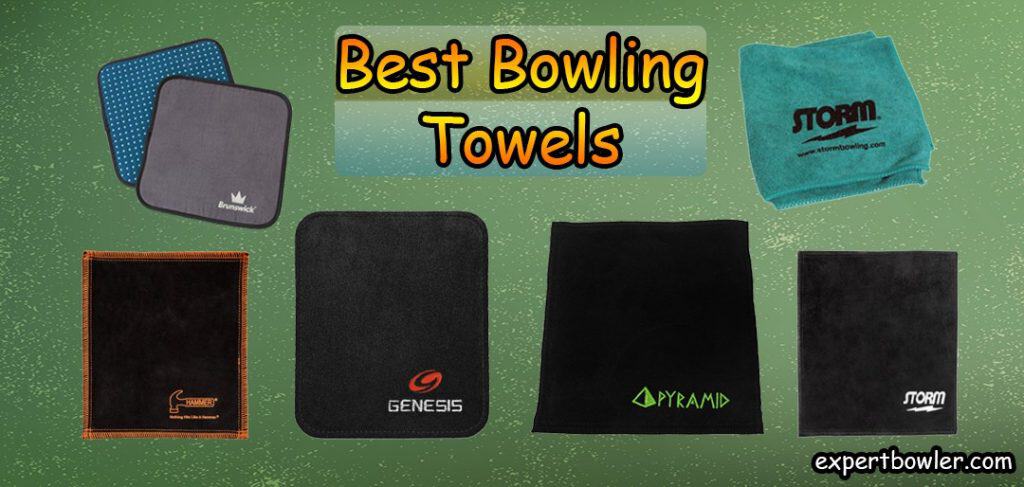 Do you play bowling to pass the time, or are you a professional bowler? How you take care of your bowling balls determines your performance. This is because, if you leave your balls dirty, they will probably not hook correctly. Cleaning bowling balls using the right bowling towel brings out the difference between the winner and loser in the game. The best bowling towel keeps your mind focused on your game. As you use your bowling towel to clean your balls, it creates a mental pattern for you to follow. Psychological preparation is key to winning in this mental game. Among the list, we chose some of the best bowling towels that will make you a star in your next game.
Note: This site is reader-supported and we earn commissions if you purchase products from retailers after clicking on a link from our site.
# Best Bowling Towels Comparison Chart
Preview
Best Choice
Best Price
Name
Storm Shammy Bowling Ball Cleaning Pad
Hammer Shammy Bowling Towel
Brunswick Microfiber EZ Grip Towel
Brunswick Reactive Shammy Pad
Genesis Pure Pad Buffalo Leather
Washing Method
Hand wash in warm soapy water
Best Choice
Preview
Name
Storm Shammy Bowling Ball Cleaning Pad
Washing Method
Hand wash in warm soapy water
Preview
Name
Hammer Shammy Bowling Towel
Best Price
Preview
Name
Brunswick Microfiber EZ Grip Towel
Preview
Name
Brunswick Reactive Shammy Pad
Preview
Preview
Name
Genesis Pure Pad Buffalo Leather
# Top 12 Best Bowling Towel Reviews
Here are some bowling ball towel options that you should check out.
1. Storm Shammy Bowling Ball Cleaning Pad
Are you looking for a towel that will work in all kinds of bowling balls? Whether you are bowling on skittles, kegel or carpet bowls, this towel is one of the best bowling towels that will clean them all. The bowling towel contains oil removing pad that gives you tangible results with just one wipe on your balls. It helps you get rid of oil, dirt, and plastic particles efficiently.
Your hands do not feel soaked in oil since the bowling towel keeps them dry to help you bowl easily. Oily hands prevent you from throwing the ball with all the necessary strength needed for the game. Made from leather, it is consistent in action so that you don't have to make unnecessary adjustments. You don't want to keep on changing your bowling towels every time they get sticky right?
Your bowling ball cleaning towel should make your balls feel new every time you clean them. If you go through bowling towel reviews, you will realize that most professionals use this cleaning pad because they know it is efficient. Its size and weight are perfect to be handled even with the smallest of hands. You can manage this towel with ease and fit it conveniently into your bag without occupying too much space for your balls. The only hitch you might experience with this towel is that it gets dirty easily, but your washing machine will sort you out.
Things we liked
Absorbs sticky moisture on your balls.
Cleans all kinds of bowling balls.
It is small to occupy less space in your storage bag.
Things we didn't like
Stains quickly
More expensive than other bowling ball cleaning towels.
Would We Recommend It?
Great features and minimal disadvantages make this towel a good choice for you. You can conveniently use it during the game or after your session is over to wipe off all the accumulated oil. Properly maintain your balls with a Storm shammy bowling ball cleaning pad.
2. Brunswick Microfiber EZ Grip Towel
The best bowling towel should be one that gives you a strong grip to help maneuver your bowling ball easily within your hands. This is what makes Brunswick microfiber EZ Grip towel stand out from the long list of the best microfiber towels. Sometimes, your bowling ball might slide when you are trying to wipe off oil and dirt particles from it. This towel contains dots on its edges to provide you with better traction so that you can hold the bowling ball in place. EZ grip side also enhances how you hold the ball so that you flip it in all directions to give it a thorough polish.
After an exhausting game, your towel should not add to more fatigue, right? It is stiff enough to hold your bowling balls in place so that you don't waste the rest of your evening cleaning them. Made from microfiber material, it feels smooth on your hands so that you can enjoy the cleaning. The material prevents it from staining when you are cleaning your towel. All you have to do is use hot water and dish-washing soap, then hang your towel to dry and just like that, it is ready for the end of another bowling session. You don't have to worry about it wearing off easily with every wash since this towel stays in check.
Note that this towel is specifically designed to clean your bowling balls at the end of the game. This is what differentiates it from other cheap microfiber towels.
Things we liked
It comes in all kinds of colors.
Provides you with a strong grip.
Fits well in your hands
Things we didn't like
You may notice that the grip sides of your towel may wear off after some time due to friction.
Would We Recommend It?
Even though cleaning bowling balls may seem easy, a strong grip makes the job smooth and fun. Brunswick Microfiber EZ Grip Towel leaves your balls ready for the next game.
3. Hammer Shammy Bowling Towel
Tired of bowling towels that smear oil all around your ball rather than lifting it off? Go for a hammer shammy that does not leave your balls oily. The ultimate oil removing pad makes it easy for you to wipe off oil from your balls leaving them clean. This feature is unique in a hammer shammy, making it one of the top-rated bowling towels you will find.
The front part of a hammer shammy comes in a black shade while the back is orange. These colors make it look appealing to use it between your shots, adding sophistication to your game. It tells lots about your personality. The package also provides you with a plastic bag that you can use to store it so that you don't have to occupy more space on your bowling bag.
Get a view of what to expect of a hammer shammy from bowling towel reviews and learn of its high-performance suede. Designed in a perfect size, you will not strain to wipe oil all over your bowling ball. Just by touching it, you can tell that it is made from high-quality leather. This makes it durable so that you can use it for long without worrying about replacing it.
Things we liked
Does not wear off easily
It adds class to your game
Wipes off oil without smearing it all over your bowling balls
Things we didn't like
When you mix it with other clothing while washing, the orange color might stain your clothes.
Its logo wears off easily.
Would We Recommend It?
If you are bored of ordinary bowling ball cleaning towels, achieve a flashy look with a hammy shammy. This not only makes you stand out from the other bowlers but also makes you bowling balls look presentable for every new round. Avoid the habit of borrowing bowling towels from fellow bowlers and style up with a hammer shammy towel.
4. Storm Shammy Cleaning Pad Blue
For all bowling lovers, your balls need a stormy shammy which is among the best bowling ball towels. This ensures that your balls are not only clean but also tacky so that you can take as many rounds as possible without having to replace your towel. It absorbs oil easily and works much better than cheap microfiber towels. Its pad ensures that your balls remain dry and less sticky.
While bowling, the belts in the game may leave your balls with dirt marks that are stubborn to wipe off. This towel cleans the lane dressing efficiently and helps get rid of stubborn marks. Designed from leather materials, you are assured that you are buying a good quality bowling ball towel that will take you for long. Comparing the price and its performance, you will find it worth every penny. Though small, this towel works as advertised. It does not give you false hope.
To achieve better results, spray some say alcohol on your bowling ball then wipe it off with this towel and see it glow in an instant. Its color gives you a sentimental feel because it connects you with your game. Purchasing one or two of these prevents them from getting misplaced easily due to many bowlers around the field.
Things we liked
Durable material
Easily absorbent
Comes in the right size
Works great on lane oil
Things we didn't like
May be a bit expensive for some bowlers.
Over rubbing it on your bowling balls may put excess tac on it.
Would We Recommend It?
Whether you are a professional or college bowler, this is a must have for every bowler. Using this towel guarantees your bowling balls a long life because it does not leave scratches on them even on lane oil. Care for your balls is the first step of winning the game.
5. Storm Woven Bowling Towel
Shine your bowling balls with a dull colored towel that does not display dirt easily. If you are an extra clean guy who hates the way oil looks on cheap bowling towels, this is for you. Made from cotton, you can be assured that your bowling balls are in the hands of the best-rated bowling towel. This allows you to get a better hook on your bowling balls.
It is convenient to use a storm woven towel when the lanes are slick. The thickness of the towel makes it comfortable to wipe out all oily surfaces from your ball. Woven threads on it do not come out easily. You can relax knowing that your child who is learning how to bowl will not pull any loose threads on it.
The size of the towel makes it convenient for you not to keep on washing it. This is because, even if some parts become oily, there are still so many other parts that you can use. Unlike using microfiber towels with losing logos, storm woven logo does not wear off easily even if you wash it for a long time. You don't want to use a towel with a half worn out logo, right? You will find this towel quite different from what you are used to.
Things we liked
Its thickness makes it comfortable to rub it around your bowling balls.
The cotton material used makes it highly durable.
Black and grey colors don't display too much dirt on it.
Things we didn't like
Its size is exaggerated making many people use it for other purposes such as cleaning their phones and tablets.
Would We Recommend It?
If you are tired of small bowling towels that keep on getting lost as you get on and off the game, this is ideal for you. The dull colors also save you washing and drying time so that you can spend more time bowling instead.
6. Storm Microfiber Towel
From one of the leading names in the bowling industry, you should certainly check out the Storm Microfiber Towel is you're after the best bowling ball towel in the market today. It's designed to provide a deep cleaning, promising better results.
Being a microfiber towel, you can expect this item to absorb the oil from your ball's surface easily. It will also cut through the dirt, dust, and grime that it can pick up along the way.
If you're worried that it will scratch the surface of your bowling ball, don't be. As a bowling brand makes it, it's specifically designed to be gentle on bowling balls. This makes it a safer option than regular, hardware store-bought microfiber towels.
Some folks tend to complain about its small size, but this makes it easier to work with. Without a lot of extra material, it's easier to handle and work around a bowling ball.
Things we liked
Can hold moisture up to seven times its weight.
Machine washable for convenient cleaning.
Effective ball cleaning even without a cleaning agent.
Durable quality and will hold up for hundreds of washings.
Will not scratch your bowling ball.
Things we didn't like
Small size puts off some folks.
Quite pricey.
Would We Recommend It?
For its performance and quality, it's easy to see why the Storm Microfiber Towel is a popular pick among many bowlers. While it is kinda small, it still has its perks. So if you're after a square, washcloth-size bowling ball towel, this could be a great pick for you.
7. Brunswick Reactive Shammy Pad
A nice option for a leather bowling towels is the Brunswick Reactive Shammy Pad, Assorted. One look at this product and you'll know that it's a cut above the rest. Its luxe material and professional look make it a must-have for any serious bowler.
Since the Reactive Shammy Pad is made of leather, you can count on it to nicely absorb oil from the surface of your bowling ball. It's meant to reactivate your ball by removing the oil in its surface, giving you better control of its motions and achieving your desired results.
Due to its smooth surface, you don't have to worry about scratching your ball with this towel. In fact, it's suitable for all types of bowling balls so it can be a good choice for a lot of bowlers.
Its relatively small size is actually an intentional detail. It's made in such a way so you can handle it easily. Some folks might have an issue with it, however, as there are also those who think that larger towels tend to promise more efficiency.
Things we liked
Comes with a 1-year warranty.
Leather material guarantees durability.
Perfect for those who play in heavily oiled lanes.
Easy to clean.
Easy to handle and use.
Will not scratch or damage the surface of your bowling ball.
Things we didn't like
A bit pricey.
Not everyone is a fan of the size.
Would We Recommend It?
With its choice of material, you can count on the Brunswick Reactive Shammy Pad to help you clean your bowling ball, no matter what its coverstock is. Its excellent oil absorption makes it a solid option for those who often play in very oily lanes.
8. Pyramid Leather Shammy Bowling Pad
For an alternative to the Brunswick item listed above, check out the Pyramid Leather Shammy Bowling Pad. Both are from well-loved bowling brands, so in terms of reliability and brand quality, the two products can be promising options.
As the name suggests, the Pyramid Leather Shammy Bowling Pad is also a leather cleaning tool that is made specifically for bowling balls. Its material makes it highly absorbent of oil and can remove dirt and debris with ease. It needs some breaking in, however, since leather isn't exactly soft and pliable when new.
What sets it apart from the other leather towel listed above is that it's relatively bigger. As the size of the Brunswick Reactive Shammy Pad is one of the primary drawbacks of the item, this product from Pyramid can be a good alternate choice. With a bigger pad, the more area you'll get to cover in one pass so it can offer the efficiency you're looking for.
The appearance of this item is also worth noting. The all-black coloring with the embroidered logo in green makes it eye-catching and professional-looking.
Things we liked
Cool and professional-looking design.
Cleans and removes oil effectively.
High-quality edge stitching guarantees quality.
Suitable for use on most surfaces.
Relatively big which makes it more efficient to use.
Things we didn't like
Needs a few weeks of breaking in.
Would We Recommend It?
Guaranteeing safe and effective oil removal and ball surface restoration with every wipe down, the Pyramid Leather Shammy Bowling Pad can also be a good pick for those who often play in heavily oiled lanes. It's definitely worth looking into if you liked the Brunswick item above but want a bigger size option.
9. Creating the Difference BFP (Big Fluffy Pad)
If your idea of the best bowling ball cleaning towel is something packed with nice features, then the Creating the Difference BFP (Big Fluffy Pad) Bowling Towel is something you should look into. Specially designed to address various bowling ball cleaning concerns, it might just be the investment item you're looking for.
Just how special is the Big Fluffy Pad, you might be wondering? For starters, both sides of this towel are meant for cleaning. Because of this, you're guaranteed to get more out of your purchase.
One side is equipped with high-quality microsuede to help you remove dirt from your bowling ball effectively. It's meant for dry lanes so it promises effectiveness and ridding your ball of surface debris. The other side is made from "ultra thirsty synthetic sherpa" so it promises to quickly and effectively absorb the oil that will stick on bowling balls when you play on heavily oiled lanes.
The best thing about this product is that it's washable. The manufacturers recommend pre-washing it by hand with dish soap first to remove the oil before putting it in the wash, however.
Things we liked
Unique and well-thought-out design.
Sturdy construction.
Great choices of materials.
Suitable for different lane conditions.
Good size makes it easy to handle and efficient in cleaning bowling balls.
Things we didn't like
Quite pricey, but with its features and construction, it can be worth the splurge.
Would We Recommend It?
With its design, it's safe to say that this bowling towel can be a good choice for those who play in various bowling centers. It can help you address different lane conditions effectively, so make sure to give it a shot.
10. Ebonite Shammy Bowling Towel
Another item in the running for being the best bowling towel is the Ebonite Bowling Products Shammy-Royal. It's somewhat similar to the BFP so it can be quite an attractive option.
While it's not exactly the same as the Big Fluffy Pad in terms of design, it still somehow offers the same functionality as it has leather surfaces on both sides. So if you think one side has already lost its ability to absorb oil and remove dirt, you still have the other to work with.
Since its primary material is leather, you can count on this bowling towel to help you out greatly when playing in heavily oiled lanes. It can also work well on all types of coverstocks.
As for its appearance, you can also proudly brandish it while playing. With an embroidered Ebonite logo, it offers a professional look. Just be careful with that area when wiping down your bowling ball, however. While there are no sharp parts, it might still cause scratches if you're not gentle enough while wiping.
Things we liked
Available in 3 different colors.
Leather material on both sides to extend its functionality.
Suitable for all types of bowling mall shell materials.
Won't scratch or damage your bowling ball.
Effective oil removal.
Things we didn't like
Not exactly a cheap bowling ball towel.
Would We Recommend It?
While the Ebonite Shammy is quite costly, it can be a worthy investment, especially if you often play in heavily oiled lanes. The quality and construction of the item are also notable, so make sure to give this product a shot.
11. Genesis Pure Pad Buffalo Leather Ball Wipe
Those who are very particular about the materials used for their equipment might find themselves drawn to the Genesis Pure Pad Buffalo Leather Ball Wipe Black. Out of all the items listed here, this is the only one that lists the type of leather used in constructing the item. For this, it shouldn't be surprising that it's one of the best-rated bowling ball towels in the market today.
As its name suggests, this item is made from buffalo leather. With the material's heavy nap, it promises to pick up dirt and debris more effectively. It also guarantees to absorb the oil better than other bowling towels in the market today.
Things we liked
Available in several different colors.
Heavy-duty dual-layer construction guarantees durability.
Premium quality promises effective bowling ball cleaning.
Perfect for all types of coverstocks.
Things we didn't like
Would We Recommend It?
If you're tired of settling for less than stellar results when playing in heavily oiled lanes, the Pure Pad might just be what your arsenal needs.
12. WINGKIND Shammy Bowling Ball Cleaning Pad
Not too keen on spending a good amount of money on leather bowling towels? The Wingkind Bowling Shammy Bowling Ball Leather Cleaning Pad is a nice option.
Featuring two sides of buffalo leather, the friendly price of this item can come as a surprise. So if you want to be more practical when it comes to your cleaning tools, this item can be an excellent choice.
Things we liked
Cheap bowling towel compares to others.
Top-notch material and construction.
Effective cleaning.
Things we didn't like
Tends to leave a black residue on hands.
Would We Recommend It?
For a budget pick, the Wingkind Bowling Shammy is a very affordable choice. However, you might want to break it in at home first as it can blacken your hands after the first few uses.
# Things to Consider When Buying a Bowling Towel
Here is a list of what you should consider getting the best bowling towels.
# Materials
From bowling towel reviews, you will learn that cotton and polyester are highly recommended. This is because they easily absorb the oily residue of your balls. These material are also durable to prevent your towels from wearing out.
# Is it machine washable?
If you don't like wasting too much time on your washing machine cleaning bowling towels, you can choose cheap microfiber towels that do not stain easily. This will not give you a hard time when it comes to getting rid of the oil stains on your towel. Beware that this type is not very durable.
# The size of your towel
Some people prefer small-sized towels that makes it easy to wipe each surface fast while others like big bowling towels that easily lifts the oil rather than smearing it around your bowling ball. Choose the right size of a bowling towel depending on taste.
# Price
Do you prefer quality items rather than quantity? Going for a high priced bowling towel could strain you financially, but you may end up spending less without replacements. The price mostly goes hand in hand with the material used to manufacture the towel. Easily absorbent towels are more expensive than microfiber towels that do not absorb oil well. In as much as you do not want to spend so much on a bowling towel, some extra pennies will give you better results. Do it for the love of the game.
# Frequently Asked Questions(FAQs)
To help you learn more about the best towel to use for bowling balls, we've answered a few of the most frequently asked questions about such items.
Q. What is a bowling towel?
A. A bowling towel is a piece of sporting equipment that most players primarily use to wipe down their bowling balls to remove oil that it might have picked up on the lanes. However, they also have tons of other uses, too.
Most bowlers also have extras of them to use to dry their hands after every shot. There are also those who see them as a tool for their technique and playing routine.
Q. What are bowling ball towels made of?
A. There are no specified requirements or features needed for a towel to serve as a bowling towel. The USBC only says that the use of a dry towel when cleaning bowling balls during games is allowed. They don't go into detail as to what kind of towel is permitted, however.
According to the best bowling ball towel reviews, the most popular materials for these items are cotton, shammy, and microfiber as they all do a great job in absorbing oil from the ball's surface.
Q. Do you need a special towel for bowling balls?
A. Not really. Some bowlers use generic towels, but you can definitely take things up a notch by getting the best towel for bowling ball made by an actual bowling brand. These items are specifically made with maintaining your bowling ball's quality and performance in mind so that they could offer better results.
Q. Does it matter what bowling towel to use?
A. Again, the USBC doesn't have specific rules on such items, so choosing one is up to your preferences in cleaning efficiency as well as in maintaining your ball's performance and quality.
Q. How to wash bowling ball towel?
A. Most experts recommend hand washing by using a dish soap since they can get very oily. If you don't want to do this, you can also wash it in the gentle cycle of your machine. Just don't wash them with your clothes.
Some products also have their own cleaning instructions. Stick to those to ensure proper cleaning and maintenance of the product you'll get.
Q. Where can I buy a microfiber bowling towel?
A. If you want an actual bowling towel, you can find them at bowling stores, bowling brand websites, pro shops, and other specialty sporting stores. However, if you don't mind using cheap microfiber towels, you can also find some at your local supermarket or hardware store.
# Final verdict
The best bowling towel helps you clean your bowling balls well preventing them from slipping. It also ensures that you do not make a poor throw caused by too much dust on your ball. Therefore, you cannot underestimate the importance of a good bowling towel in the game. Consider the factors and features mentioned above and choose the right bowling towel to preserve the shine on your bowling balls.
Last update on 2021-01-15 / Affiliate links / Images from Amazon Product Advertising API