As an Amazon Associate we earn from qualifying purchases.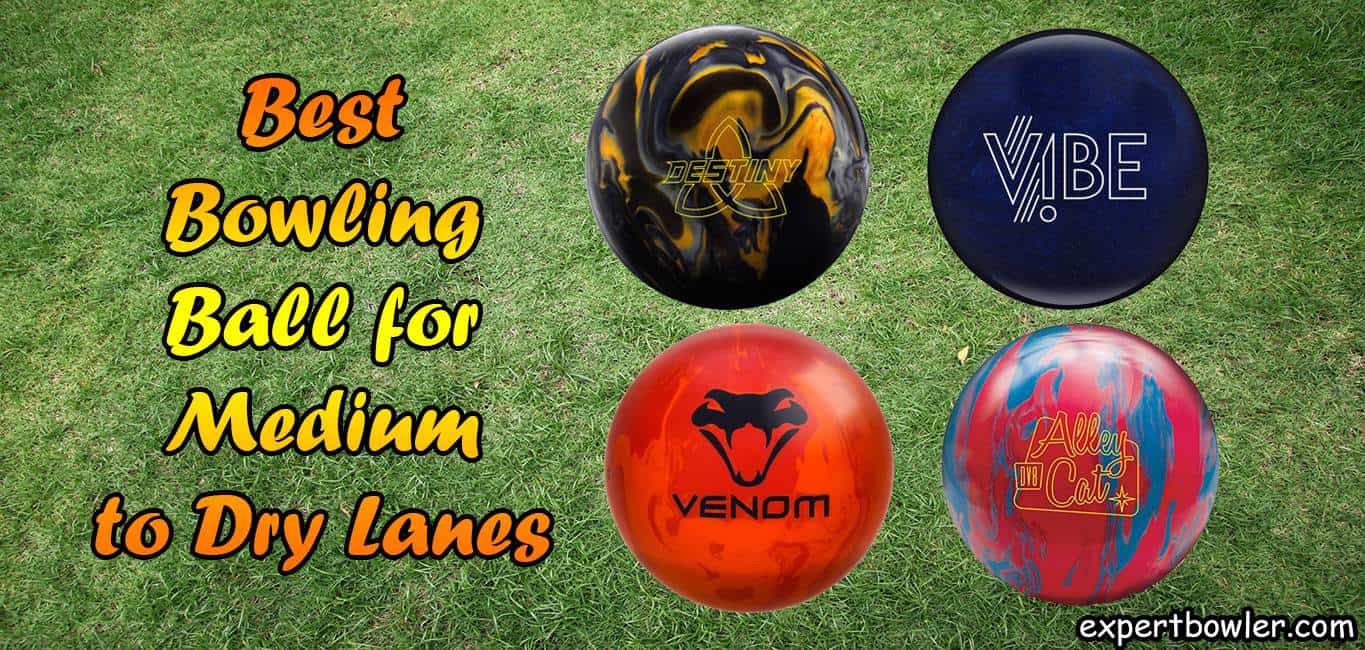 Every bowler who is working on improving their skills and performance will need to find the best bowling ball for medium to dry lanes. Why? If you're enjoying the game, it's highly likely that you'll also want to try playing at different alleys. Doing so will let you experience different lane conditions which will also help you get adept at them.
As different lane conditions can also affect the performance of your ball, it's best to be prepared all the time. By having the ball that will match certain lane conditions, you can be sure that you'll always have ample control over your ball and that you'll perform well no matter where you are.
How do you find a good medium to light oil ball? Read our guide below to find out.
# Best Medium To Light Oil Bowling Balls Comparison Chart
Preview
Best Choice
Best Price
Coverstock
Coercion MFS Solid Reactive
Factory Finish
500/1000 Abralon Polished
500 Siaair/Crown Factory Compound
500/2000 Abralon w/ Factory Finish
Best Choice
Preview
Factory Finish
500/1000 Abralon Polished
Preview
Best Price
Preview
Factory Finish
500 Siaair/Crown Factory Compound
Preview
Coverstock
Coercion MFS Solid Reactive
Preview
Factory Finish
500/2000 Abralon w/ Factory Finish
# Top 5 Best Bowling Ball for Medium to Dry Lanes
To help you get a solid idea as to where to start looking in your search, we've rounded up five products that are the best-rated bowling balls for dry to medium lanes. Check them out here:
1. Storm Fever Pitch
Created to offer a middle ground between the Pitch Black and Pitch Blue, the Storm Fever Pitch found the sweet spot that the two popular bowling balls do not cover. As it's one of the most highly anticipated releases in recent years, it's a great thing that it did not disappoint when it comes to performance.
What makes the Fever Pitch such a hit is its different feel. For a urethane ball, it has a very different motion from its competitors and even from the other balls in its product line.
Many would agree that it can perform well even in the driest oil patterns and can suit quite a lot of playing styles, techniques, and skills. It's even safe to say that even urethane ball haters will love the performance of this ball because it's just that good. Being strong, sharp, and easy to control, it can guarantee good ball reaction for lots of players.
Why We Recommend It
Pwr + Ctrl cover. Some folks like to argue that the Fever Pitch isn't purely a urethane ball and it's easy to see why they think so. Its coverstock only feels like urethane, but it's more similar to resin in terms of shape and even performance. With its design, the ball's differential drops while the RG shoots up so it's more capable of going farther down the lane with a strong friction motion.
2000 grit Abarlon factory finish. If you're looking for a ball that is less sensitive, the Fever Pitch might suit your needs with its 2000 grit finish. It's not aggressive but it still has a good angle, making it an attractive pick for many.
Symmetrical weight block. Its symmetrical core can guarantee that you'll get ample control and smooth throws with the Fever Pitch.
Suitable for both dry and medium oil patterns. Its grit may be able to handle medium lanes but it's also proven effective on dry lanes. Others go as far as saying that it works well on all kinds of lane conditions, however.
Other Considerations
Doesn't offer a traditional urethane reaction. Since this ball is not a traditional urethane one, you can't expect it to act similarly.
2. Ebonite Destiny Hybrid
As a part of the brand's Destiny range, the Ebonite Destiny Hybrid is specially engineered to address specific needs and conditions. It completes a set of three balls, sitting perfectly between the Destiny Solid and Destiny Pearl.
The name may have already clued you in on the fact that it's best described as one of the most versatile bowling balls in the market today. As a 'hybrid', it's meant to suit various conditions that a lot of players may face.
What gave the Hybrid its standout feature is its Cyclone Torque shape. While it's a signature feature among Ebonite balls, it offers consistency and guarantees the good balance of high RG and high differential hit that makes the ball capable of handling various skill sets and lane conditions.
Topped off with the Powerhouse Factory Finish Polish, it gets to offer right length and reliable performance on medium to dry lanes.
Why We Recommend It
Combines the reaction of the Destiny Solid and Pearl models. Like the Solid, the Hybrid picks up strongly in the mid-lane. Like the Pearl, it flips on the backend. It basically combines the key traits of the other two, making it the perfect addition to the range.
Great price. One of the best things not just about the Destiny Hybrid but the entire Hybrid line is that it comes with a friendly price tag. You can get all three for the price of one high-end ball, so it can easily offer you more bang for your buck.
Cyclone Torque shape. Like the other Ebonite balls, the Hybrid guarantees that players of various skill levels can get great control and results from it.
Powerhouse Factory Finish Polish. Promising a significant length on both medium and dry lane conditions, you can expect smooth motion and great control on the Destiny Hybrid. Its coverstock promises more total hook than the Destiny Pearl as well.
Other Considerations
Not for heavy oil patterns. It can skid long and far on heavily oiled lanes.
3. Motiv Venom Recoil
There are quite a few things the Motive Venom Recoil is notable for, most of which are very interesting and might prompt you to give it a shot.
For starters, it's the first asymmetrical ball to be released in the Venom line. As a result, it's smoother off the breakpoint compared to the other balls in the range. In addition to this, its solid reactive Coercion MFS coverstock offers an upgrade from the earlier releases in the Venom line as the Recoil is more aggressive. While it's long and smooth motion is comparable to the older models, its continuation is at a different level.
Lots of bowlers like to compare the Venom Recoil with the Venom Shock which makes it a more interesting pick. The said item is a very successful one, so a newer version of it might just be a better choice for many.
What makes it very notable, however, is its ability to provide a lot of hook for its price tag. Not a lot of asymmetrical core bowling balls are in this price range so the Recoil can also be a very good steal.
Why We Recommend It
Gear APG (Asymmetric Performance Gain) weight block. In an effort to provide layout versatility to ball drillers after the USBC changed their balance-hole ruling, the brand crafted this asymmetrical weight block for when no balance-hole is used.
4000 grit LSP polished solid reactive Coercion MFS coverstock. Compared to the older items in the range, the Recoil offers a more aggressive motion.
Best for light to medium oil patterns. Tests show that the Recoil is a good pick for a bowling ball for medium to dry lanes. On such conditions, it can strongly read the front and middle parts of the lane.
Good price. Not a lot of bowling balls in its price range offer the same features, especially an asymmetrical core. This fact alone makes it worth looking into.
Other Considerations
Can feel underpowered. Like other bowling balls, the Recoil suits certain styles and skills better.
Great hook potential might prove to be too much for some bowlers. Unfortunately, some might also find the Recoil to be too arc-y.
4. Hammer Blue Vibe
Lots of seasoned bowlers rejoiced when the news of the comeback of the Hammer Vibe Bowling Ball- Blue came out. Considered as one of the most iconic balls in the brand's history, it's a crowd favorite that lots of Hammer fans hoped to get hold of again.
Why? Its versatility and predictability make it one of the best cheap medium to light oil bowling balls. Even top-ranking and famous bowlers commend this bowling ball's performance and design. Its versatility makes it suitable for a lot of bowlers and lane conditions while its predictability makes it very easy to work with.
Also referred to as the Blue Vibe, you can count on this ball to continue Hammer's hitting power. Combined with its friendly price tag, it makes a stronger case for you to add it on your bowling bag.
Why We Recommend It
Original Vibe symmetrical core with medium RG and differential. If you've always wanted to own a Blue Vibe because of the iconic ball's performance, this guarantees that you can get the same reaction and performance. The remake has the same symmetrical core making it easy to control. Combined with its medium RG and differential, you can be guaranteed that it will suit medium to light oil lane conditions nicely.
Glides at the front and easy to control backend motion. One of the strongest suits of the Blue Vibe is the fact that it's easy to read and control.
CT Reactive Plus Solid reactive coverstock with 500/2000 Abralon Powerhouse Factory Finish. It reacts well to lane conditions.
Excellent price tag. Another reason to give this product a shot is its very friendly price on top of its excellent features.
Very predictable motion. The Blue Vibe is very easy to read which allows you to get full control over your throws.
Other Considerations
It's more of a dry lane ball. Some bowlers find it to be too soft and weak when used on oilier lanes.
Smoother than the original. It's not necessarily a bad thing, but if you're looking for something that is exactly the same as the old Blue Vibe, you might have to manage your expectations with this item.
5. DV8 Alley Cat
There's not a lot to expect from entry-level products which is why the DV8 Alley Cat Bowling Ball came as a big surprise. This high performer doesn't cost much, so its great offerings are really worth checking out.
The first thing that a lot of people like to note about the Alley Cat is its design. It has a very striking appearance as it comes in bold colors. There are actually three different color combinations available, so you can even choose which one suits your style best.
Next to its visual appeal is its performance. It boasts of an easy length with a moderate hook through a smooth glide on the front part of the lane followed by a sharp turn after catching some friction.
Thanks to its pearl reactive coverstock, you can also count on it to have a smooth and predictable motion. This makes it easy to control and work with.
Why We Recommend It
Pearl Reactive Coverstock. It glides smoothly and predictably, especially on light oil lane conditions.
Symmetrical core. As mentioned above, not a lot of entry-level and low-priced bowling balls have symmetrical cores, so the Alley Cat comes at a bargain price.
Fantastic price. The Alley Cat is possibly the best-priced item on this list making it a solid option for those who are on a tight budget.
Outstanding shelf-appeal. There's no denying that the Alley Cat looks nice. It's also available in three different colorways so you can certainly have options in expressing yourself and style with your bowling ball.
Comes with freebies. Who doesn't like freebies, right? The Alley Cat comes with a sack that you can use for the ball or your shoes, giving you more bang for your buck.
Made for light oil lane conditions. Made specifically for dry lanes, this ball can also promise you consistent performance as the game wears on, and the pattern gets more and more beaten up.
Suitable for all skill levels. The Alley Cat will work well for beginners, but experienced bowlers will also like how it performs.
Other Considerations
Might still be a bit too overwhelming for a beginner. It's not aggressive but there's a lot of hooks that a beginner might not know what to do with. This might prove to be a challenge but with the right tips, it can also be taken advantage of.
# Buying Guide to Choose a Bowling Ball for Medium to Dry Lanes
There are tons of reasons why you would need a bowling ball that is specifically made for medium to light oil conditions. For one, lane conditions differ in various bowling alleys and competitions. If you want to stay on top of your game, you'll need the right ball to help you manage the situation.
Luckily, there's no guesswork involved in finding the right bowling ball for different lane conditions. There are actually a few clear-cut ways how you can find the right ball that will suit your needs, skill levels, and performance goals. Here are a few of them that you should keep in mind:
Check recommended lane conditions in product description.
A lot of manufacturers specifically notes the suitable lane conditions for their products, so you really don't have to guess which ones are for heavily oiled lanes and which ones are for drier lanes. Some even further specify the patterns their products are best for, better cluing you in on the perfect lane conditions for certain products.
Read reviews.
While most marketing materials for bowling balls are reliable, there are still some products that can work on a wide range of lane conditions without a hitch. This is why it's also ideal to read reviews as you can learn about medium to light oil bowling balls from people who actually tried bowling with them in different oil conditions.
Follow the rule of thumb.
According to experts, if you often encounter dry lanes, it's best to go for balls with pearl or stiff coverstock. If you more often face medium or heavily oiled lanes, bowling balls with solid coverstock would be better.
# Frequently Asked Questions(FAQs)
Q. Why is oil used on bowling lanes?
A. Originally, bowling lanes were oiled as a means of protection for the lane surface. However, over time, it was discovered that without oil, the ball would hook too much which can render the game impossible to play. In short, oiling the bowling lanes help control the ball from hooking too much.
Q.What kind of oil is used on bowling lanes?
A. Mineral oil is commonly used as a base oil then layered with special lane conditioners.
Q. Do you need to be able to read oil patterns in order to choose the best bowling ball for medium or dry lanes?
A. Not really. Reading lanes can be tricky and it might take you a while to master the skill. You don't really have to delay the process of getting a good ball that will work on medium to light oil conditions if you're just taking oil patterns into consideration.
# Final Thoughts
While the sheer amount of options for the best bowling ball for medium to dry lanes can be overwhelming, it doesn't mean that the process of choosing which one to get is impossible. Keep our tips in mind, and you might be able to accomplish the task without a hitch.
Amazon and the Amazon logo are trademarks of Amazon.com, Inc, or its affiliates.
Last update on 2022-11-25 / Affiliate links / Images from Amazon Product Advertising API