As an Amazon Associate we earn from qualifying purchases.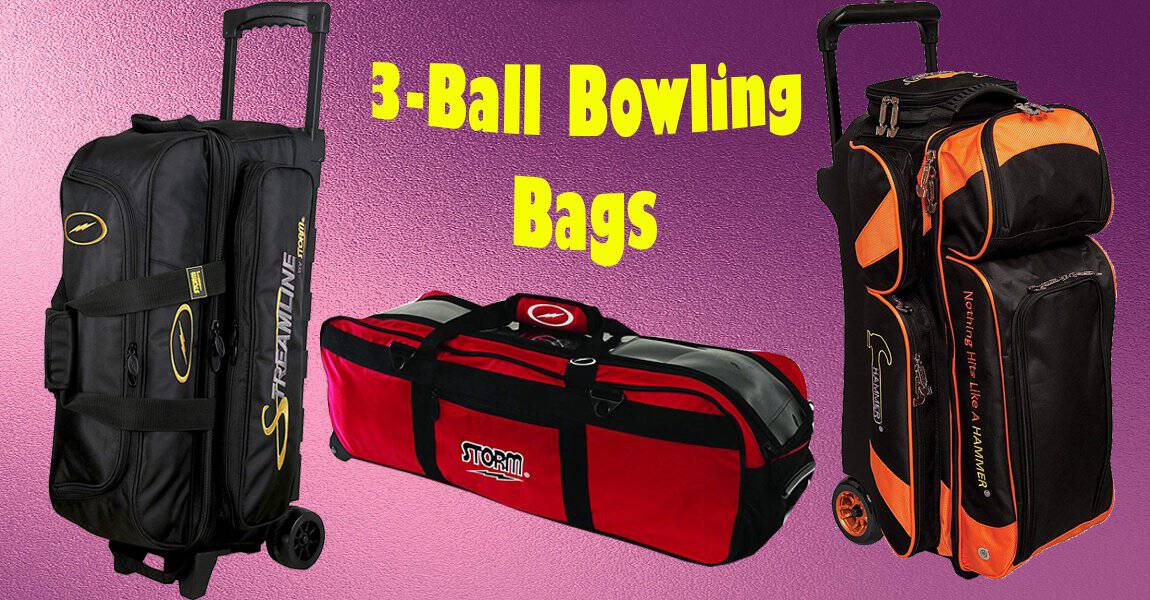 You may be among the many that are taking up this increasingly popular sport. Regardless of whether you are a seasoned player or taking up the sport for the first time, you do realize it is a lot of fun – especially when you have the right equipment. In particular, if you decide to buy one or several bowling balls, it is only natural that you need an item to transport them quickly and safely.
You cannot rely on the ordinary backpack to do the trick – bowling balls are heavy, and you will need a bag that can withstand their weight while remaining comfortable to carry. This is why we have compiled the list of the best 3-ball bowling bags for you.
# Comparison Table of Best 3-Ball Bowling Bags
Preview
Title
Storm Streamline 3 Ball Roller Bowling Bag Black
KAZE SPORTS Deluxe 3 Ball Bowling Roller with Double Wheels...
Storm 3 Ball Rolling Thunder Signature Series Bowling Bag...
Hammer Premium Triple Roller Bowling Bag, Black/Orange
Preview
Title
Storm Streamline 3 Ball Roller Bowling Bag Black
Preview
Title
KAZE SPORTS Deluxe 3 Ball Bowling Roller with Double Wheels...
Preview
Title
Storm 3 Ball Rolling Thunder Signature Series Bowling Bag...
Preview
Title
Hammer Premium Triple Roller Bowling Bag, Black/Orange
# Top 5 Best 3-Ball Bowling Bag Reviews
1. Storm Streamline 3 ball roller bowling bag
Constructed out of the best-quality materials that are regularly used by the manufacturer in their smaller bags (600D polyvinyl), it has high durability and usefulness as well. This is also aided by the double stitching used throughout the bag.
Another aspect to note is the use of padding, instead of the usual foam you see in many bags today. This ensures the balls remain safe as you move around with them, and it also prevents them from touching or hitting each other while in the bag, which is a major culprit for cracking.

Because the bag has numerous components within it, it definitely comes with increased storage space. That also means you can decide to store your personal possessions within the bag, including bowling shoes and other items (it takes shoes up to size 17).
The only drawback about carrying it is you need to be careful while moving around with it, due to its weight. For instance, if you move it across uneven surfaces, that can damage the wheels and the bag itself. It is also more costly, compared to other bags on this list.
Pros
The bag is large enough to store multiple items
The compartments make it easy to organize your luggage
The bag is durable and stylish
The roller wheels are of good quality
Cons
It is more expensive
Weight
2. KAZE SPORTS Deluxe 3-ball roller with double wheels
This also happens to be another great roller bag that utilizes the same materials the manufacturer uses in other bowling bags. Thanks to the 1680D nylon that makes up its main fabric, it happens to be impenetrable and very durable, allowing it to withstand various environment types.
You do not need to worry about placing your bowling balls in it, either. Because of the extensive padding on the inside, the balls are always separate from each other to reduce incidences of cracking. In fact, the bag has a shoe compartment, in addition to six other compartments, making it ideal for family trips to the bowling alley.
The wheels themselves have wheel-bearing components and are large in size, which makes it less of a struggle to pull, and PU polyurethane makes up their main composition, giving them a seamless surface compared to other wheels. To improve the stability of the bag as you roll it, the compartments holding the bowling balls contain securing straps.

The square handle is also a major plus – you are able to lock and retract it when you need to. In fact, you simply click a button, and it retracts from flush to base and so on. In addition, you can extend it to a maximum of 41 inches, making it great if you are tall and need a comfortable bag you can carry without bending too often.
However, that does not mean it comes without its problems. One is the cost – it is among the most expensive bowling bags, and it might be easier to buy separate bags if you cannot afford it, or you want some extra protection for the balls. It can also prove to be very heavy, particularly when you decide to carry it when going on very rough surfaces. The good news is you do not need to let these factors hold you back, especially if you are a professional bowler.
Pros
Highly durable
Very easy to move, thanks to the large wheels
The design is effective and stylish, protects the balls very well
You can extend the handle
Large storage space
Cons
Costly
Tears easily when it comes into contact with the ground
3. Storm 3 ball rolling thunder signature series bowling bag
The Storm 3 ball rolling thunder bag uses premium materials in its construction, the heavy-duty 600 denier fabric, ensuring you have greater levels of durability and reliability. In addition, it contains large urethane wheels measuring up to five inches in diameter, sound assembly, a heavy-duty base, and axle.
There are comfortable handles that make transporting the bag much easier for you, as they have a telescopic design. The build of the bag is also highly convenient, as the compartments are also great for storing any larger accessories you may require. In fact, the large pocket that carries most of the extra items runs the entire length of the bag, so we mean it when we say this is a great accessory to have.
The shoe compartment, in particular, is an oversize one. Since it has a bottom access zipper, a double zipper opening and premium-quality metal grommets with vents, it can hold shoes up to a maximum size of 20 (US Men's size). In case you want to carry other smaller items such as towels, notebooks, gloves, and pens, there are smaller and mid-size compartments on the opposite side of the full-length pocket.
Similar to the KAZE SPORTS roller bag, its handle is a collapsible type that you can minimize flush into the base. This allows you to store the bag easily. There is also the advantage it has of extending the handle, making it easier for both short and tall bowlers to move the bag around. It is among the best 3-ball bowling bags you can get today, but the only drawback with the design is the ball straps – they are lacking, and make it difficult to carry many balls.
Pros
Very comfortable to carry, thanks to the padded grips and handles
The wheels are smooth and wide enough
The roller system is made of high-quality material
The grip handle at the bottom of the top straps makes it easy to lift and carry the bag
Plenty of space
You can lock and collapse the handle easily
Cons
It lacks ball straps for individual balls, which is inconvenient when you carry only one or two balls simultaneously.
4. Storm 3 Ball tournament Tote
You may have heard of the manufacturer, as it is among the most established brands in the field of making bowling bags, with an experience running for at least 10 years. They stand behind this product as a testament to the quality of their construction – as an example, this has a limited manufacturer warranty of 90 days.
Aside from remaining a good choice if you are on a budget, this is a great bag if you decide to do some travel, as well as carrying your equipment to your tournaments or leagues. It is important to note something though – this is not intended to be a main bag for carrying three bowling balls since it does not have spaces for extra accessories or shoes (unlike the other options on this list).

The bag comes with comfortable handles, which make it easier for you to transport the bag. The comfort is enhanced by a telescopic design and great design of the grip area. The build of the bag is also highly convenient, and the wheels are of medium size, which makes it easier to roll on the ground as you move. Just a warning though – you need to be careful when moving it on uneven surfaces, as you do not want to risk the fabric tearing and leaving a mess behind.
If you have balls that each weigh less than five pounds, this bag can accommodate them comfortably. The flap also comes with an adjustable tow strap nylon top for extra convenience. The material that comprises the base is mainly EVA, which helps it remain comfortable when you carry it, in addition to the slim design.
The only drawback would probably be the fragility of the bag. There have been some complaints from some users who claim the bag is challenging to carry, and the spacing of the compartments is not optimal for carrying three bowling balls at once. In fact, you may want to arrange your balls carefully to reduce chances of damage, and the other downer is the lack of space to store added items.
Pros
Lightweight
Has a compact size
The wheels roll well due to the medium-sized design
It holds balls securely, thanks to the molded base
The slim design that helps in carrying the bag comfortably
The nylon strap is durable
Cons
Seems to be fragile compared to the other bowling bags
Lacks space for additional items
Challenging to carry balls because it tends to be too tight for them
5. Hammer premium triple roller bowling bag
This bag has some particular features that help it to deliver consistently high performance. Among them, and the most prominent feature, is the wheels – they measure up to five inches and contain steel bearings, which serve a major role in increasing the stability of your equipment. That also allows you to comfortably move with it wherever you go.
Durability is no longer an issue either, and this is due to the fabric that makes up the bag – 600D/1680D, ensuring maximum durability even with long usage. They also make the bag itself have a premium feel to it.
In addition, the bag contains a spacious side pocket, which holds shoes up to 15 inches (it allows you to store your accessories too), while the handles at the end make the bag easy to lift, move and carry. You can also store other items you may want to bring along, due to the side compartments that are large in size and cover almost the entire length of the bag.

You do not need to worry about the balls either. Since the inside of the bag has sufficient levels of padding, the balls are continually protected while you are on the move. In addition, there are Velcro straps for each ball compartment to secure them in place.
Similar to other bowling bags on this list, this one has numerous components within it. That is good news for you, you can easily store your shoes if you decide to take them along for the ride. It additionally includes the allowance for can decide to store your personal possessions within the bag, including notebooks, pens and other items.
The handle itself extends to 42 inches, and that is good news if you are tall and looking for a bag you can move with easily without straining.
Pros
The construction quality of the bag itself is great
It has plenty of space, sometimes more than you may need
The wheels roll easily
Cons
# Final thoughts
It was a tough call, but the Hammer premium triple roller bag carries the day. Thanks to the large wheels, it is very easy for you to move it around in a bowling court, and they also give it stability through the steel bearings. The space it contains is also large, which allows you to store other items as well, and you can never go wrong with a durable bag, which this has in plenty thanks to the 600D/1680D material.
At the end of the day, you need the best 3-ball bowling bags that can protect your three bowling balls from any damage. If you are searching for a bag that combines convenience, protection, and reliability, this is probably the bowling bag you are looking for.
Amazon and the Amazon logo are trademarks of Amazon.com, Inc, or its affiliates.
Last update on 2023-11-28 / Affiliate links / Images from Amazon Product Advertising API